Legend tells of a legendary driver whose Indy racing skills were the stuff of legend. Appearing in the form of smoke the driver was rumored to have been created, not born. Manufactured from the DNA of AJ Foyt and the remains of an Offenhauser, he was dominant, enthusiastic, and beloved by the people.
Just as legendary was his car, a blindingly magnificent neon machine. A mesmerizing site to behold, the machine bore the name "Menards", which was not so much a sponsor name as a command summoned straight from the Necronomicon. The driver studied the incantations of soothsayer named Szmanda, who showed anyone who dared to notice how to say the magical word, so as to transform the machine from a race car into a unstoppable juggernaut on the track. The driver showed his skill often on the racetrack, but when he needed that something extra, beneath his helmet he called to his machine with the power of this one word, and in doing so he overcome legions of foes.
Together they ruled the early days of the Indy Racing League, but suddenly the driver left to drive taxi cabs or something. The machine remained, but was passed on to a less-legendary driver with two first names, who also learned the power of the magical word. Eventually other drivers realized this indomitable machine with its powerful command needed to be stopped, and so one night "they" kidnapped the machine and forcibly removed it's glorious livery, neutralizing the power of the magical word.
The machine struggled without it's beautiful coat and it's powerful word, and much sadness, wailing, and rending of garments followed. We though the end of the story, until. . .
From Team Penske:
Team Penske announced today that Menards, the industry-leading home improvement store company with locations throughout the Midwest, will sponsor the No. 22 car and driver Simon Pagenaud for three races during the 2016 Verizon IndyCar Series, including this year's 100th Running of the Indianapolis 500 on May 29th.  Menards will adorn the side of the No. 22 Team Penske Dallara/Chevrolet at the Indy 500, at the Angie's List Grand Prix of Indianapolis on May 14, as well as the series' return to Road America in June. The company will also be an associate sponsor on the No. 22 Team Penske car for the balance of the 2016 season.

Today's announcement marks a return for Menards to the Verizon IndyCar Series. The Wisconsin-based company raced as a sponsor in INDYCAR from 1996-2003 but the return to action this season represents Menards first taste of series competition in 13 years.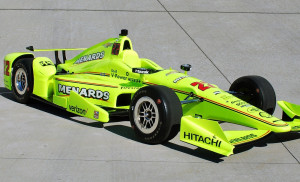 "Would you look at that? Would you look at THAT?"
So this Throwback Thursday we feature one of an untold number commercials, featuring "Menards Guy". Pay heed, Monsieur Pagenaud, and notice how it's done. You start amiable, like nothing is going to happen, but suddenly you grit your teeth, steel your spine, focus your stare, and then quickly and with authority utter the word that will fill the stunning beast with unlimited power. Say it. "Me-NARDS!"