This isn't a space where I would normally write about myself or my family, but if it has to do with racing in some way I'll make an exception. So allow me to tell you a little story about Simon Pagenaud and my 10-year-old daughter.
Don't worry. It's a good story, full of joy and happenstance. But first, here's three paragraphs of backstory.
This story starts with a confession about something I did about ten years ago, around the time my youngest daughter arrived in our family. I was having conversations with two other Indycar bloggers, Bill Zahren of Pressdog and another who no longer writes, about consolidating our work into a single site. We threw around email lists with possible names, and since these were the days of 99 cent domain name promotions I purchased one: "indycarnation.com." Yes, I owned that.
After much consideration we all decided to keep our work on own sites, but since I held on to the domain name. I never did anything with the URL, but about a year or so after my purchase I was checking the Indycar web site and, oh my Memo Gidley, they now had a fan section called INDYCAR NATION! Shocked, I asked a legal friend what I should do, and he informed me, "well, they own a trademark on 'Indycar,' so you can't do anything with it." I didn't want to let the domain name expire because someone else not affiliated with racing could purchase it. So I kept renewing it, figuring eventually someone at Indycar would contact me about it.
"Eventually" turned out to be earlier this year, when I got an email that said "Hey Jeff, would you like to make a trade?" The series put me in contact with Riley McCarthy, who works with the Indycar Nation program, to work out the particulars of "an agreement." I didn't really want to get anything special for myself, but I wanted whatever I could score, err, agree upon for my wife and kids who haven't had the opportunities at races that I have had.
And here's the part where it gets fun.
One of the agreements of the trade was that, depending upon availability, my family would get to do a meet-and-greet with a driver of their choice. My oldest two and my wife all said "Hinch!"so he was the first choice. My youngest son said "Kanaan!" and my youngest daughter said "Simon!" Well, as you can imagine, James Hinchcliffe already had his schedule filled. My youngest son was not feeling well and he wasn't at the track with us, so it would have been cruel to meet Tony Kanaan without him. So we went with Pagenaud, meeting him outside of a Team Penske trailer a few hours before the start of the race.
Before we met with him though, I asked my daughter what she wanted to say to him. "I don't know," she replied. Sensing the meeting could get really awkward, I suggested she ask him some questions.
"Like what?" she asked.
"Well, what do you want to know about him?" I responded.
"Has he won the Indy 500?"
"No, he hasn't. But you could ask him about that."
We talked a bit more about things she did and didn't know about him, so when the time came to meet Pagenaud she was ready for conversation. Simon came out wearing his firesuit around his waist, and after some cordial introductions I told him my daughter has been a fan of his since she watched him race last year. He gave her a big hug, then looking at her hat that said "Menards" in the front with a big red "1" in the back, said "I like your hat! Can I get one like this?" She laughed nervously.
And then her interview broke out. "Which car color is your favorite?", "Where do you live?", and "Why is it so hard to win the Indy 500?" Out came the questions, and Simon enthusiastically answered each one. And then came, "Do you have any pets?"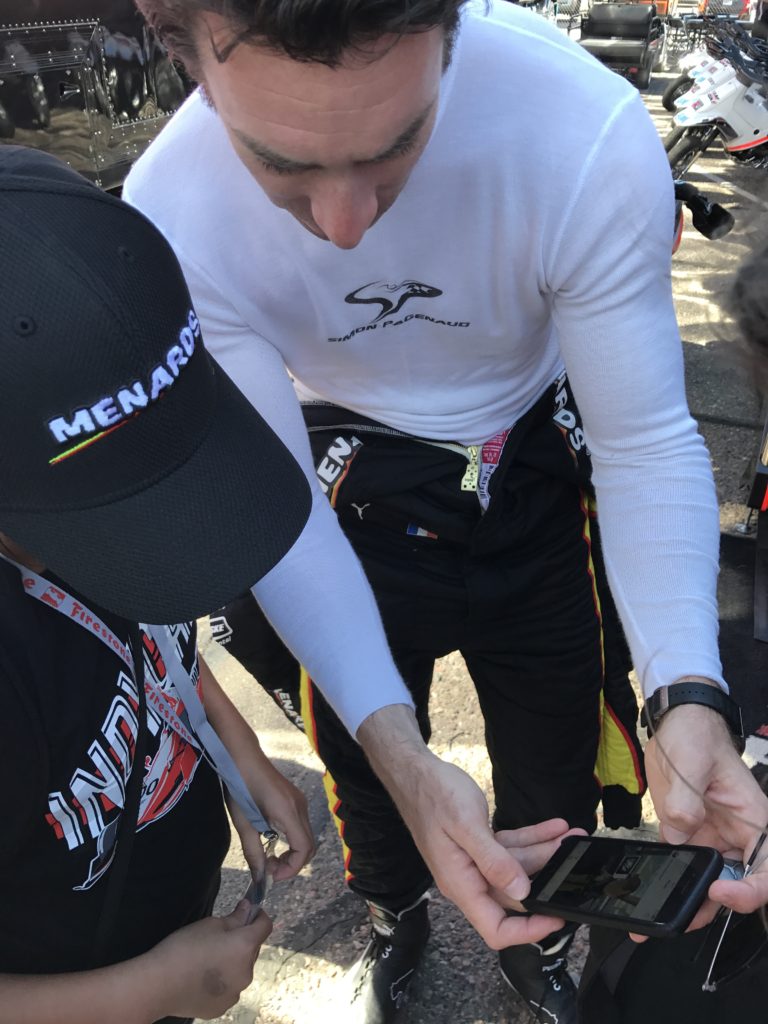 Simon got out his phone, leaned over, and proudly showed a video of a Jack Russell terrier playing with another dog. "I have a dog, Norman. Do you want to see him? He has his own Twitter account. My little dog, he is more famous than me." And then they were discussing dogs.
"Can I put you on my Instagram?" he inquired. Simon got down on one knee next to her, raised his phone and started recording. When he was finished he stood up, told her it was a pleasure to meet her, but he had to get ready for the race. She shyly asked, "Could you please sign my hat?" "Of course!" He signed it, shook all of our hands, and gave her another big hug.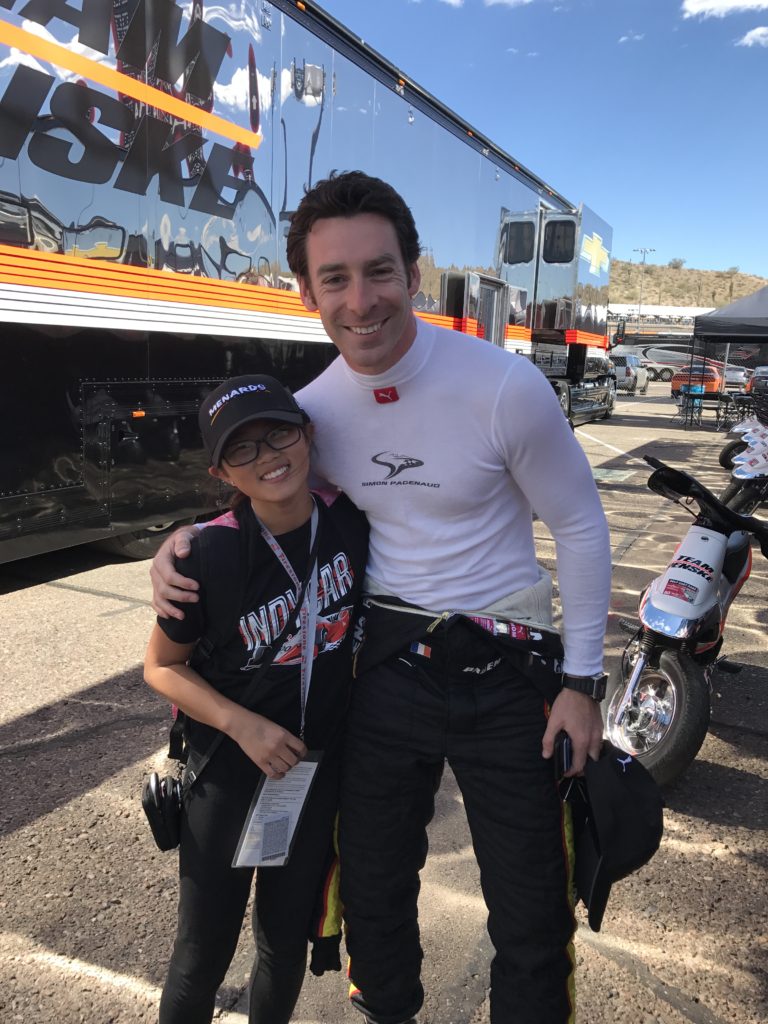 Although it wasn't part of the agreement Riley had offered to let us hang out backstage for driver introductions, so a few hours later we made our way to the back of the stage before the drivers arrived. Some drivers waved at us, some gave high-fives or fist bumps to my kids, one or two agreed to a picture. When Simon came by he put out his arms and my youngest ran over for yet another hug.
"I'm so happy to see you again!" he gushed at my daughter.
"Me too! Good luck!" she shouted.
"I'll tell you what, I will see you in Victory Lane after the race, OK?"
And with that he scampered up the steps to wait for his introduction. When the announcer said he name, she let out a "Wooooooo!" and grinned.
Now what Simon didn't know was that the agreement with Indycar gave us one last perk: a picture in Victory lane with the winner. When he said "See you in Victory Lane" he probably meant "YOU will see ME in Victory lane." But my youngest knew of the agreement and she asked solemnly, "Dad, what if he doesn't win?" "Well then, we'll get to meet another driver!" I said, trying to be positive for her. "But I want him to win!"
Now those of you who have seen the race know how that played out. Pagenaud avoided the first-lap disaster and then lingered behind his Team Penske teammates Helio Castroneves and Will Power for most of the first half of the race. During the third fuel stint he crucially managed to stay out one lap longer than them, so that when Takuma Sato slapped the wall in turn four it brought a caution that would change the race dramatically. Pagenaud could now make his third pit stop under yellow and still maintain the lead, and after the wave around for other drivers to get him behind the pace car he now had two lapped cars between him and his teammates.
And at this point I started feeling more nervous for my daughter than she was. Years of cheering in vain for Andretti drivers at Indy will bring out the most dreadful pessimism in a person.
"He's going to win, Dad!" she shouted excitedly.
"Sweetie, don't jinx him." I said, being a lifelong racing fan.
"But he only has to make one pit stop and he's got a huge lead."
"Plenty of things can go wrong on just a pit stop."
"But he's ahead by half a lap."
"One yellow flag can change that."
But nothing did go wrong for Pagenaud, and as the race wound to conclusion my older two were genuinely excited for their little sister. She just beamed, stunned with joy at what was happening. Simon, who had never won on an oval, had kept his promise. We all stood and cheered, because today we were all Simon Pagenaud fans.
We left our seats and hurried to make the long trek down from the grandstands in turn one, across the stretch behind the front straightaway, under the tunnel near turn four, and back into the garage area to meet Riley. We followed her directions and headed towards Victory. Patiently waiting for our turn we watched as while Simon and Power and JR Hildebrand received their trophies and sprayed champagne on each other. While Simon did interviews and the subsequent "hat dance," which involves being photographed dozens of times with a zillion different sponsor hats, my youngest asked, "What should I say?" "Just tell him 'Congratulations.'"
After watching different groups of people get behind Pagenaud for a photo, we heard the call: "Iannuccis!" We walked up from the back to take our turn, and my daughter shouted, "Congratulations, Simon!" He glanced with a smile, did a double-take, then took his left arm off the trophy to give her one last hug. "Come here! I told you I'd see you in Victory Lane!" And then, after a quick pause, a serious look came over his face as he said "You need to come to Indy!"
In that moment I thought: if those other bloggers hadn't considered getting together, if I hadn't bought the domain and chosen to hold on to it, if my youngest had liked a different car last year, if Hinch hadn't been so busy, if my youngest son hadn't felt sick this weekend, if Takuma Sato didn't wreck when he did… this moment to finish this day doesn't happen. But it did. It really did. And the memory will make her a fan for life.